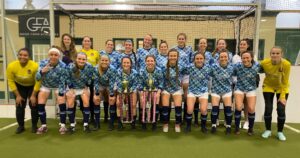 3/28/23; Fairfield, Ohio | The Cincinnati Sirens continue their streak of success in the indoor soccer arena. The ladies captured their 4th National Championship title this past weekend and tacked on an additional title from the US Arena Open Cup Championships for the first time.
Wins against San Antonio and Oklahoma City set the Sirens up for a Semifinal matchup against local rivals, Columbus Eagles. After a 5-1 victory, Cincinnati faced off against Houston in the finals, winning 7-3 to earn the title of PASL National Champions. Upon completion of the PASL championship match, the ladies played, and won 3-1, against the Snohomish Steelheads out of Tacoma, Washington in the US Open Cup Championship. The Sirens completed the double, becoming the first women's team to capture both US Open Cup and PASL National Championship in the same year.
"This group continues to impress. What amazes me the most is that they continue to have a desire to improve, to be challenged. This year, with teams from Louisville, Columbus, Detroit, Chihuahua (Mexico), Houston, Tacoma, etc., they were certainly challenged. As an organization, we are really excited about the growth of women's indoor soccer and the explosion of these and other really talented teams. It's also in times like this that I think about two very important people to our organization – Joe Talley, who started our organization, and John Vogt, our owner. John is selfless, is constantly thinking about our organization, and gave us this incredible opportunity. I know the ladies and I appreciate both Joe and John, because without them, none of this is possible." – Craig Rhodis, Technical Director
The Cincinnati Sirens have now been named PASL National Champions in 2019, 2020, 2022 and 2023. The ladies did not compete in 2021 due to Covid.