By: Tara Stroud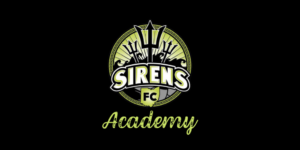 If you follow women's soccer in Cincinnati at all, you have likely heard of the Cincinnati Sirens. Founded in 2016, the organization has put together an impressive resume within the Women's Premier Soccer League (WPSL) and the Premier Arena Soccer League (PASL). The current roster boasts a handful of players who were not only part of the back-to-back PASL National Championship teams, but were also a part of Team USA, who was crowned the Champion of the World Minifootball Federation World Cup in Ukraine last year. And with finding massive success at the women's level, the Sirens organization felt the next steps were to create a similar environment for high school aged players, prompting the launch of the Cincinnati Sirens Academy in 2021.
In just its second season, there are currently over 80 players, ages 14-18, in the Cincinnati Sirens Academy. The club-neutral training sessions run for eight weeks and give players an opportunity to train with the Cincinnati Sirens staff and women's first-team players.
Sirens' Technical Director Craig Rhodis had this to say about the rising Academy, "Last year was our first year for the Cincinnati Sirens Academy. We weren't sure what to expect and it was certainly a learning experience for us all. Coming into this Winter, however, we had a much better game plan and a staff in place to execute our vision. Jacob, Alex, and our core players have done an excellent job in creating a competitive environment for the girls."
Rhodis also explains what players can expect when signing up for the Sirens Academy, "Players come in to train three times a week for 90 minutes, working on speed & agility, individual skills, and futsal skills. We also added our development team, which competes in the PASL against quality women's indoor teams like the Chicago Mustangs and the Columbus Eagles. With our continued growth, we expect close to 200 players next Winter and are incredibly happy with what we have built so far."
Many staff members echo Rhodis' sentiments and are honored to be a part of the program. Sirens Academy Director Jacob Morrison says, "This experience has been special. I cannot express how incredible this program is for young athletes who are wanting to be successful at the next level. Craig Rhodis has done an excellent job helping to establish the PASL league for the women and our job with the Academy is to push the limits of what a true arena experience is for aspiring athletes. It is an incredible blessing to direct this Academy and our goal is to create, excite and inspire the next generation of female soccer players."
Safe to say the coaching staff has done just that with this latest group of Academy players. Those who were selected to take part of the PASL development team had an outstanding trip up north on Saturday, February 5, beating in-state rivals Columbus Eagles FC. Coach Alex Kamphaus was at the helm with an incredibly young team, taking on a very experienced Columbus squad. He had this to say about the match, "Our goal with the Sirens Academy is to bring the girls into a highly competitive, demanding, and nurturing environment to become the best players they can be. The result on Sunday, away at Columbus, was a flagship moment for them. Three weeks ago, this same team took on the same Columbus Eagles team at home and lost 13-6. To go into their complex, fight back from behind twice and win 4-3 was an incredible moment to be a part of. The girls fought for each other for 60 minutes and deserved every bit of that win. This only goes to show how special and unique this Sirens Academy is. In such a short time, our girls have made their own mark on the game, and I look forward to seeing what the future holds for them all."
The Sirens Academy now has just a few weeks of training remaining during the current Winter session. The girls will no doubt continue to use this opportunity to get ready for their Spring seasons with their own teams, or prep for upcoming collegiate seasons this Fall. The PASL development team will also compete against the Chicago Mustangs at GameTime Training Center this Saturday, February 12 at 6:30pm. Tickets are available at the door for $8/adult and $6/youth.
For more information about the Cincinnati Sirens and the Cincinnati Sirens Academy, visit cincinnatisirens.com.
#####