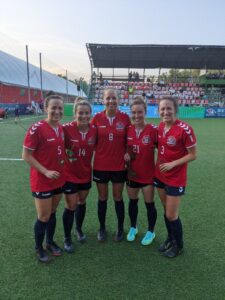 Five members of the Cincinnati Sirens competed with Team USA in the first ever World Minifootball Women's World Cup in August. Jackie Esterkamp, Christy Zwolski, Erin Yenney, Gabby Byorth and Emily Byorth traveled to Kiev, Ukraine, alongside Sirens' Technical Director and Team USA Head Coach Craig Rhodis, and came home as WMF Women's World Cup Champions.
Team USA dominated play, winning 5 games in 4 days with a goal differential of 48-2. During an interview with the Premier Arena Soccer League (PASL), Head Coach Craig Rhodis said, "We have enjoyed this process. It's a process that really started at PASL Nationals (where the Sirens were once again named National Champions), with starting the player identification process, through the friendlies in Texas and Grand Rapids, and mini training camps in Cincinnati and Chicago, we really focused on not only identifying the players we would select, but also to prepare those players. We didn't assume we were better than any of the teams, we put the work in to be prepared."
Erin Yenney, who was second in the Cup's points with 16 (with seven goals and a tournament-leading nine assists) had this to say about her experience. "It was really special to be able to play in the first Minifootball Women's World Cup. Our team didn't have a lot of time to prepare, but we were able to put a great product out on the field, thanks to all of our coaches and our players buying-in. It was just a great group of ladies and we had a ton of fun on and off the field. We gained friendships from around the world, which is probably my favorite part! Everyone was so happy to represent their countries and I'm grateful to have been a part of it. I look forward to seeing Minifootball grow both in the United States and other countries."
Jackie Esterkamp echoes Erin's comments about the trip. "Going to the Ukraine and winning the Women's Minifootball World Cup was truly a memorable experience. We went to the Ukraine with the mindset of winning the tournament and we did just that. But the experience was much more than that. Our team grew as individuals, we became an even closer group. We created relationships with other women's teams, took group photos, cheered for one another on the field, had conversations on the bus rides, and played silly games waiting for those busses. One moment in particular that will have a lasting impression on me was at the ceremony when every country came together on the field and chanted for each country individually."
Emily Byorth said, "I had a great experience in the Ukraine. To be able to share it with my Sirens' teammates and Craig made it that much more special. We had a great group, everyone was bought in, determined and set the standard. With this being my first time competing in another country, I also enjoyed experiencing another culture. Getting to interact with other teams, like India, was amazing. I learned so much from them, especially how the opportunities to play as females differs so much between us, but we still share the same passion for the sport."
For full coverage of Team USA in Ukraine, you can visit USA Soccer 567.