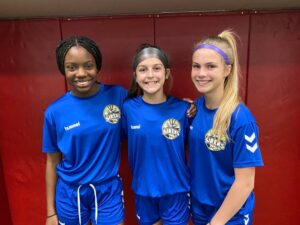 The Cincinnati Sirens hosted their first 8-week session of the new Sirens Academy during January-February 2021. Girls ages U13-U18 participated in weekly training sessions, led by Sirens staff and players, that included speed & agility, ball skills and fitness. Squads were broken down by age group and each team competed in various league games against other local teams, a New Year's Day tournament where academy players played alongside Sirens players, and a regional futsal tournament. Other activities were planned but were put on hold due to Covid-19.
Academy Director Jake Morrison was "very happy everyone had such a positive experience. We look to build upon our program and continue offering opportunities for both our current ladies and future members of our Sirens Academy."
Players interested in future Sirens Academy sessions can email [email protected].